Project Description
Silicone vacuum casting for prototype or 25+ short run production plastic parts
The silicone vacuum casting is also called urethane-casting. The silicone vacuum casting rapid manufacturing process is the perfect choice for prototyping and small batch production.JIGNXIN precision machinery Ltd, is a professional custom rapid manufacturing factory of silicone vacuum casting service producing the parts in a range of polyurethane (PU) resins and cast nylon. The parts made by vacuum casting is to replicate and replace engineering polymers for prototypes and low-volume production.  JINGXIN is always seeking to supply our best solution to industrial rapid manufacturing.
Application and Advantage:
Short lead times: Silicone Vacuum casting tooling will be finished within 3-5 days 
Low tooling cost: Liquid  Silicone is used to build the vacuum casting tooling. it is very low-cost than steel plastic injection mold.
End-use Application: Silicone Vacuum casting systems produce high-quality parts that closely replicate the performance attributes of injection moulded parts;
Speed to market: Best solutions for developing products, fast turnaround to change the RTV silicone mold to meet market demands in various industries including medical, consumer electronics, automotive.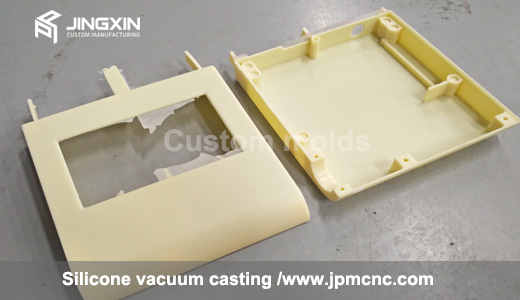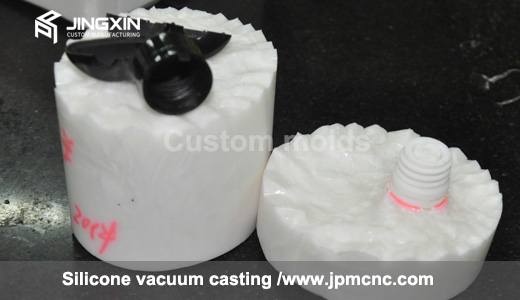 Silicone vacuum casting plastic parts
| Project Name | Vacuum casting plastic parts |
| --- | --- |
| Application | home appliance housings and enclosures |
| Material | ABS-like |
| Machinery |  Vacuum casting machine |
| Processes | Casting |
| Surface treatment & color | Painting |
| Part Measurement | Customized |
| Tolerance required |  Without marking DIN 2768-M; Special required at   +/-0.1mm |
| Packaging |  Carton +wood case |
| Quality assurance | ISO 9001:2008, ISO 14001 and BS OHSAS 18001 Certification |
| Document supplied | CMM testing report, ABS Material data sheet & Rohs SGS report |
| Client From | USA |

Vacuum casting process details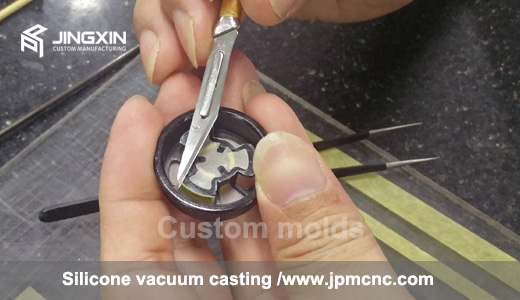 Master Model
The master model is usually produced via 3D printing or CNC machining from CAD model, however, if a direct copy of an object is required, then this object can be used to make the silicone rubber mould.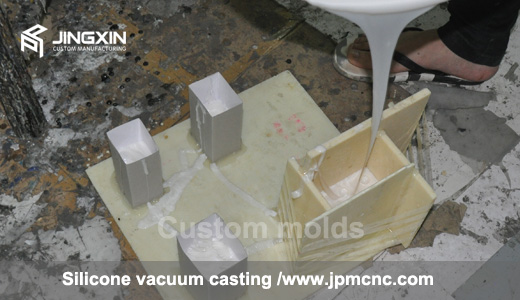 RTV silicone rubber Mold making
Design the gate and Make a frame by rigid paper or ABS plate surround the master model, Pulling the special silicone into the frame, then put it into vacuum machine and oven.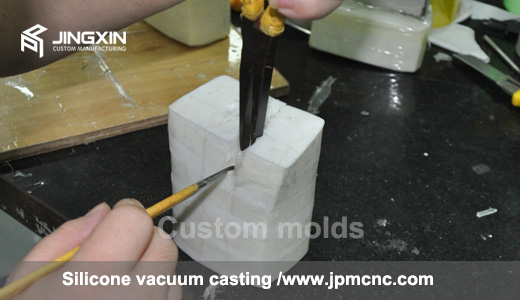 Cutting silicone mold
Cut the silicone mold according to the designed parting line, take out of the master model.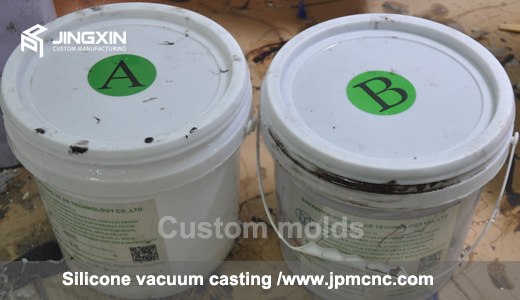 Casting material, Plastic-like
Component A is a flowing liquid silicone, component B is a curing agent.Parts can be produced in one single material or multiple materials using co-molding or over-molding. Flexibility in casting materials include color, with or without texture, high impact strength, tear resistance, and high heat deflection.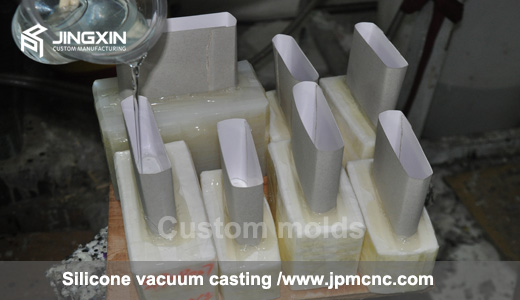 Pouring the casting material
Pouring the plastic like material according to material required for the parts.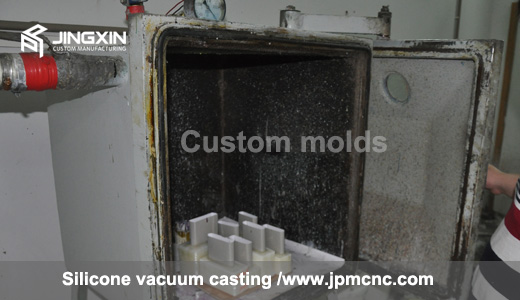 Vacuum machine
Vacuum machine is used to keep the casting material in cavity without bob and full fill every corner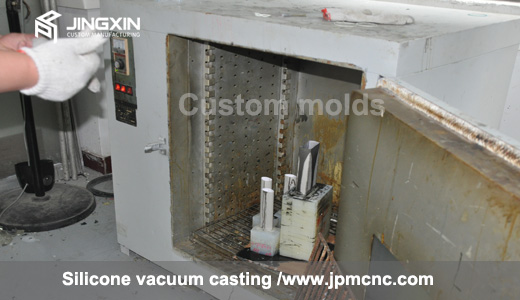 Oven machine
Put The mold into the oven baking 3-4 hours, so that the silicone mold to accelerate curing molding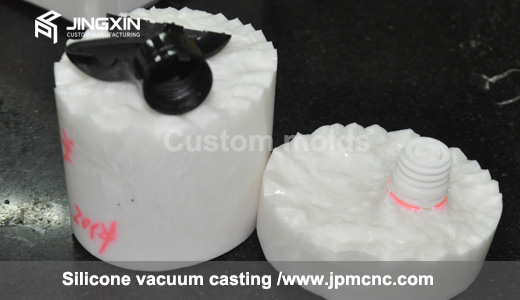 Open the tooling and take out the parts
Open the tooling and take out the parts, cut the gate and remove the overlap, then send the parts to next process like painting
At JINGXIN®, offers the RTV silicone mold vacuum casting process service, supplying a variety of urethane and epoxy resins. Additionally, this service helps you get the high quality,  "production-like parts" with the finish in a wide range of colors by painting or plating on your demand. Learn more about JINGXIN services please visit our home page