Project Description
Deep draw metal Stamping Parts supplier in China, At JIGNXIN, we offer the custom sheet metal fabrication services, the metal manufacturing process is including Sheet Metal stamping, Deep drawing stamping, CNC bending.
Trusted by the most famous company in the world,
The 2000+ projects we have done for our clients from the overworld, Why they choose us as a contacted factory? Somehow, Our skilled mold designer will take customer requirement of the parts into consideration during the mold design and manufacturing.
Precision Metal Stampings (Tolerance range +/-0.02mm)
We understand that our customers need exceptional products that are consistent with quality, design and build specification. Our company has invested heavily in advanced stamping, bending, deep drawing equipment, enabling us to quickly deliver components in the volume you need. We have a rapid response team (one sales person and engineer as a group) in place, whose role is to ensure that your order is completed on time and  give your our advice in terms of your design has some issues in mass production before mold and tooling making, save you time and cost for tooling modification.
Stamping tooling designed and made in-house
All the stamping tooling and mold are made in-house with our advanced machining equipment. 20+ R&D Team who has more than 10 years experience in Stainless Steel Sheet Metal Fabrication. First of all, when I got a new inquiring about custom Stainless Steel Sheet Metal parts, we will propose a reasonable solution to our clients to make sure the newly designed parts that will be done complying with the principle of stamping process as well as the  Cost-effective.
To find out more about our services or discuss your project in more detail.Welcome to Contact our Project manager(Mr. Sammy: sammy@jpmcnc.com) directly for your project.
Deep drawn Metal Stamping parts
| Project Name | Deep drawn Metal stamping enclosures and cans |
| --- | --- |
| Application | Electronic products housing, Industrial equipment enclosure, |
| Material | Aluminum, Stainless steel, Steel |
| Machinery | Precision deep draw Metal stamping China machine, CNC bending machine, TIG, and MIG welding machines |
| Processes | Sheet metal deep draw stamping process, bending, Welding. |
| Surface treatment & color | polish & plating,or painting, powder coating |
| Part Measurement |  Customized |
| Tolerance required |  Without marking DIN 2768-M; Special required at   +/-0.1mm |
| Packaging |  Carton +wood case |
| Quality assurance | ISO 9001:2008, ISO 14001 and BS OHSAS 18001 Certification |
| Document supplied | CMM testing report, ABS Material data sheet & Rohs SGS report |
Deep draw Metal stamping China manufacturing Process Details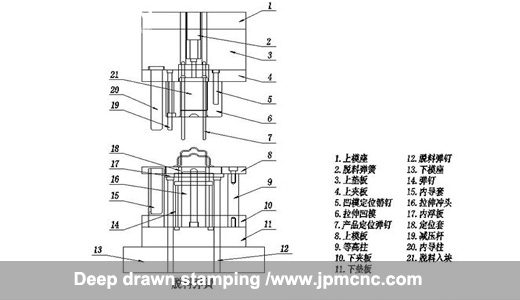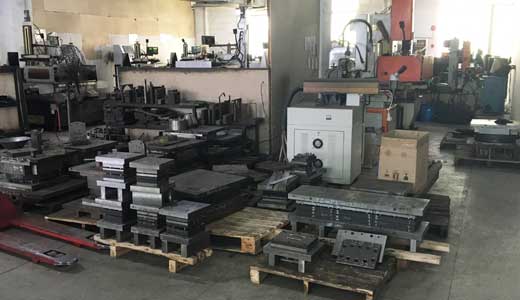 Metal Stamping parts tooling  design and making
Clients provide 3d model design with stl format, our engineer converts the stl file into stp format, then design deep drawing mold according to the products design requirement.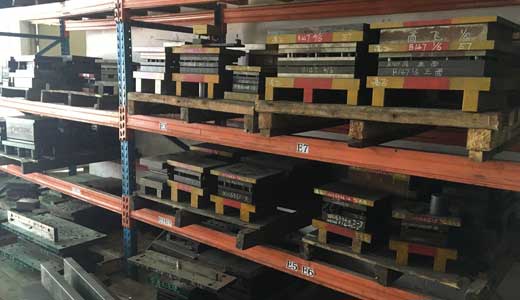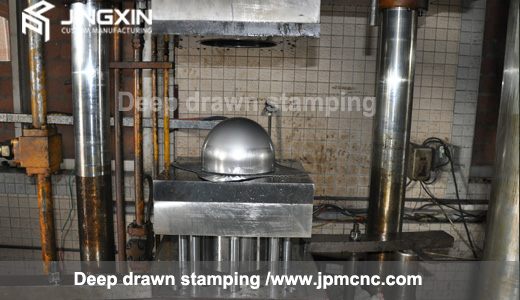 Metal stamping parts tooling
Making the mold according to the mold design, the mold finished with 3 weeks by CNC machining, WEDM EDM, Assembly testing, the first testing samples were sent for clients confirmation on the fourth week.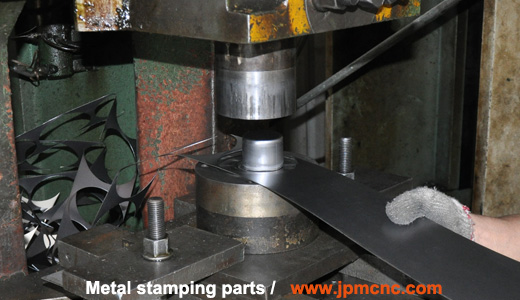 The sheet metal stamping parts will be finished by 2-3 steps of stamping dies or punchings by different tooling.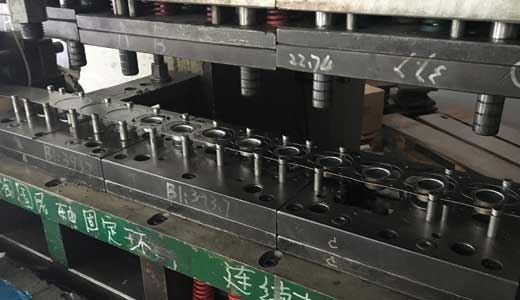 progressive-die tooling is more efficient in saving the labor cost and speed up the production. Safety for workers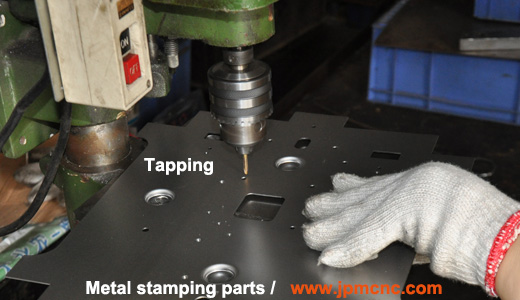 Tapping the thread on sheet metal stamping parts up on parts design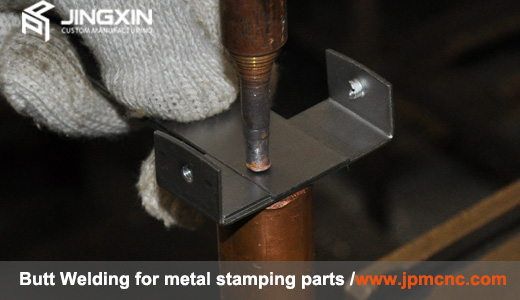 Some sheet metal stamping parts will be butt welded together according to clients design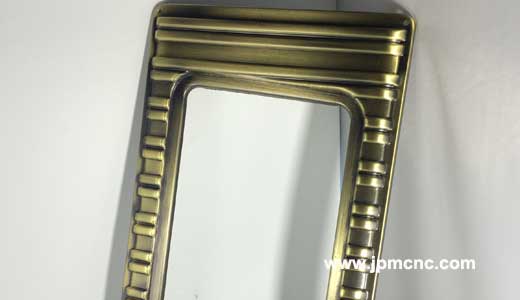 Deep draw Metal stamping Frame
Most of the metal stamping parts will be finished by 2-3 steps drawing or stamping by different stamping dies & toolings.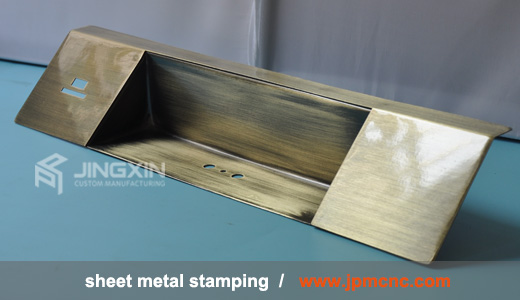 Antique bronze plating finish
At JINGXIN, metal stamping manufacturers supply the parts surface treatment and  finish that is  painting, plating and powder coating, More available finish that we do in-house please refer to page  finishes
At JINGXIN®, We provide a full range of sheet metal fabrication service including Metal stamping, Sheet metal bending, Deep draw metal stamping and CNC lasing and Punching Rapid tooling for Short-run production or 10000+ production. Applications include parts for Auto parts, medical, industry. The Fast lead time within 3-6 weeks.
To find out more about our services or discuss your project in more detail.Welcome to Contact our Project manager(Mr. Sammy: sammy@jpmcnc.com) directly for your project.