Project Description
Here at JIGNXIN precision machinery Ltd, a full service of rapid prototyping, SLA 3d printing services and custom manufacturing factory in China, we are always seeking to supply our best solution to industrial manufacturing. Therefore we have set out to create a brief, how it works, and the various technologies involved.  We hope it helps you a little bit about 3D printing technologies and its application to manufacturing.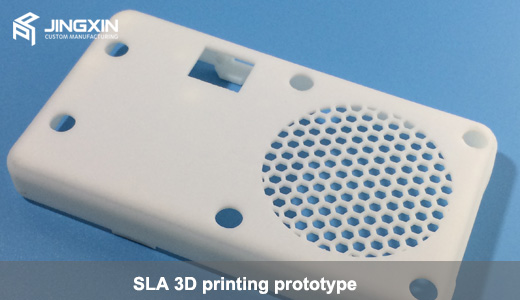 3D printing services project details
| Project Name |  Electronic products |
| --- | --- |
| Application | Electronic production design evaluation |
| Material | Somos 14120 |
| Machinery |  LionTech 3d printer ,China brand |
| Processes | SLA 3d printing services |
| Surface treatment |  Blank and Polish |
| Part Measurement |  DIA 50mm*18H |
| Tolerance required |  +/-0.1mm |
| Packaging |  Carton +wood case |
| Quality assurance | ISO 9001:2008, ISO 14001 and BS OHSAS 18001 Certification |
| Document supplied | CMM testing report,Material data sheet & Rohs SGS report,Salt spay testing |
| Client From | Japan |
What can you make with 3D printing services?
While initially, 3D printing services was primarily a technology for prototyping, this is quickly changing. Now numerous manufacturers are producing end-use components and entire products via additive manufacturing. From the aerospace industry to medical modeling and implantation, to prototyping of all kinds, 3D printing is being used by virtually every major industry on the planet in one way or another.
Prototyping:
Rapid prototyping takes your designs out of the computer and into the real world, but choosing the right process is critical to success.
Manufacturing facilities across the globe are using 3D printing as a way to reduce costs, save time, and produce better products. 3D printing prototyping is the best solution for new products developing, research, fast lead time and good surface look like the molded parts.its application is From automobile manufacturers to electronics companies and anyone in between, 3D printing is an invaluable technology.
Short-run & low volume production
3D printing is a good manufacturing process for low volume production. Plastic like material can be for end-use.